District Wine Village Ready for June
Published on April 19, 2021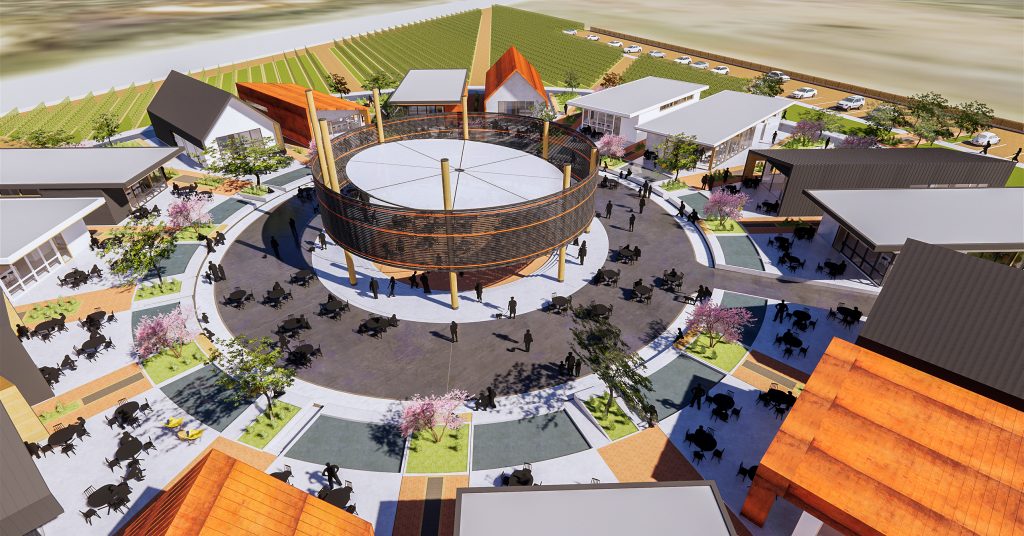 – Wine lovers across the Okanagan — and around the world — will be pleased to know Canada's first-ever wine village is scheduled to open in less than three months.
District Wine Village general sales manager Darcel Giesbrecht confirmed Wednesday that the village remains on schedule to open in June, with contracts signed with numerous well-known Okanagan wineries
The village will be located in the Senkulmen Enterprise Park, five kilometers north of Oliver.
The project is the brainchild of Penticton's Kenyon family, which owns Greyback Construction. The family has helped build more than 40 wineries across the Okanagan Valley over the past 20 years.
The village will consist of 16 separate buildings. A total of 13 of the buildings will be leased to regional wineries from across the valley. Each will feature an outdoor patio and retail shop where people can taste and buy the various wines. There will also be one brewery, a restaurant and one distillery.
"The only contract that hasn't been signed is the distillery, which we're currently working on," said Giesbrecht. "All of the winery deals have been signed… some we haven't officially released yet."
The deals that have been confirmed include Trading Post Brewing, Trading Post Eatery, One Faith Vineyards, JoiRyde Winery, Wapiti Cellars, Vintners Cove Winery, Gneiss Wines, Winemaker's Cut and Eau Vivre Winery.
The contracts run from three to five years for most of the wineries, with a couple running for 10 years, she said.
When the village officially opens for business in the middle of June, there will be four buildings that are still under construction, but all of the others are completely finished and ready to roll, she said.
Construction on a separate outdoor restaurant/amphitheater that can hold up to 600 patrons for events and concerts is also under construction and that is expected to be completed by the end of April.
"It has been very very busy… and we're really happy with how things have gone over the winter," she said.
The infrastructure for an outdoor skating rink, that will be part of the village, is also near completion.
The District Wine Village will be the first of its kind built anywhere in Canada and all of the partners involved are excited and counting down the days until the grand opening, said Giesbrecht.
"We are all getting pretty excited for sure," she said. "We are also working with a couple of different vendors as well, such as e-bike and wine tour companies,­ that are looking to set up shop on site as well, so it can really be a one-stop visit with a lot of options.
"You will be able to rent an e-bike and head for a wine tour at all the great wineries on Black Sage Road and end your day with a beer or glass of wine with lunch at the village."
"We're going into opening prepared for whatever the restrictions will be in place at that time," she said. "Our venue is mostly outside, which will make adjusting much easier to whatever we're allowed to do.
"We're going into it very aware and open-minded and kind of able to adjust."
The village will include a Wednesday evening market featuring South Okanagan fruits and vegetables and other food products, as well as sales by the wine and beer vendors, she said.
While all efforts are directed at the grand opening, the management group is still committed to developing a second phase of the wine village, featuring larger spaces in the next few years, she said.
More than four acres of grapes have been planted on site.
During a kickoff press conference held last September, village operations manager Michael Daley and Greyback Construction president Matt Kenyon said the village is the first of its kind in Canada and will take the best from what they've seen with similar villages in Europe and the United States.
"There are a few of them around the world," said Daley. "There is one in Washington State that Matt and I had the chance to go down and visit and one in California called Tin City that is doing very well. It's kind of a new phenomenon. It's a one-stop shop for people who love wine and the wine industry."
All of the wineries have been built on a slight elevation so guests will be able to look into the central hub building that is licensed to serve 600 guests. This hub will host various art shows and concerts and in the winter months will be turned into an outdoor skating oval.
The large culinary centre will offer quality food and pop-up kitchens for special events held throughout the year, said Daley.
Two full sets of grape crushing equipment have been built, which will be shared by the various winery owners.
The 11-acre village is located on land owned by the Osoyoos Indian Band, which signed a long-term lease with the Kenyon family.
More than $2 million was spent on site infrastructure before construction on any of the buildings began, said Kenyon.
"We feel this will become a destination unto its own and people will enjoy other wineries in the area," said Kenyon. "We hope this village will be their first stop or end stop at the end of the day."