Up close and personal with District Wine Village, debuting this June
Published on April 19, 2021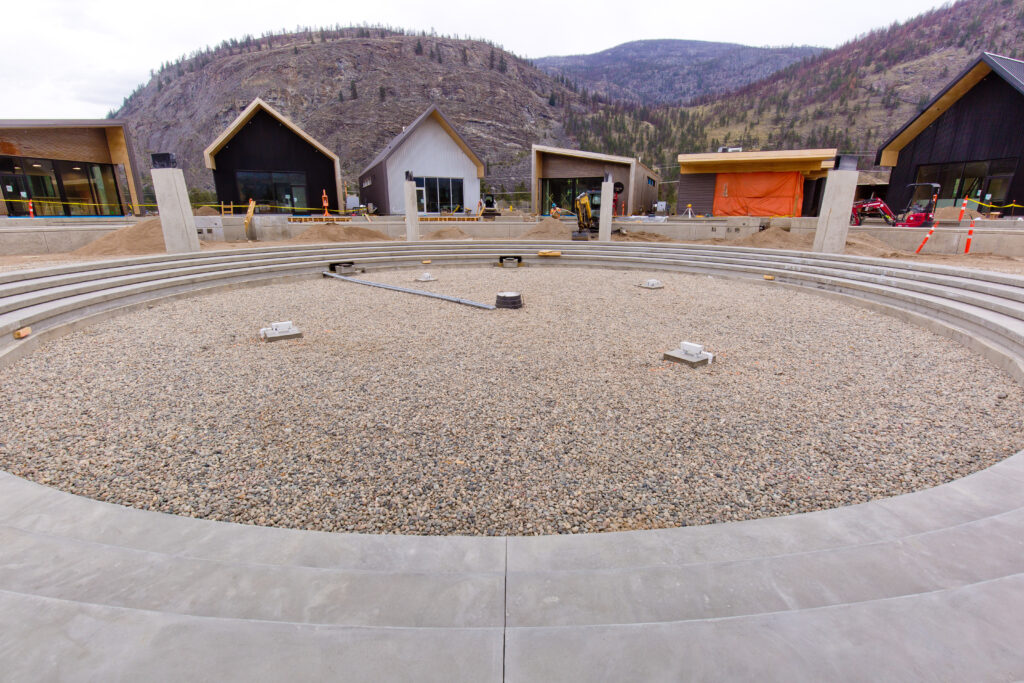 Thank you PentictonNow for telling our story!  You can read it here or go to their website to see the full article
Article by Gord Goble
Anyone who's driven through the south Okanagan a few times knows the spot. It's seven kilometers north of Oliver and a kilometer south of Gallagher Lake at the intersection of Hwy 97 and Tucelnuit Drive. McIntyre Bluff towers to the west, and a Tim Horton's and gas station are directly across the street.
Since 2011, it's been the site of the Osoyoos Indian Band's still-underused Senkulmen Business Park and the magnificent sculpture below.
But today, the desert scrub has been removed and the once barren land at the western edge of the park is alive with activity. Sixty workers, a ton of construction and land-moving equipment, a gaggle of structures in various stages of completion, and a finish line just three months away.
It's called the District Wine Village, and when it officially opens this June it'll be a truly unique Okanagan attraction.
Imagine a circular "village" where 13 miniature wineries, one miniature brewery, one miniature distillery and one eatery — each with a 30-person patio — surround a sunken 600-person amphitheatre replete with upscale landscaping and glorious water features.
There'll be a whole bunch of jaw-dropping design elements too — not to mention concerts — and the whole thing will be open year-round.
PentictonNow checked out the facility last week and came away with a real appreciation for the speed with which it's taken shape. It was announced in November of 2019 and construction began in February of 2020. Now it's just three months out.
Our tour guide was director of operations Michael Daley, who soon introduced us to Village president and Greyback Construction boss Matt Kenyon. The Village is a Greyback project through and through, and it all got started, said Kenyon, when a lifelong friend named Max sowed the seeds.
"His name was Max Brock," said Kenyon. "He was born and raised in Okanagan Falls, and so was I.
Photo Credit: NowMedia
Matt Kenyon
"So Max traveled extensively through the wine regions in the USA and came back and told me two or three years ago about these wine clusters they have in various spots. And he asked me why we don't have this same sort of thing here in BC.
"So we started looking at it and came up with this concept, this communal artisan village, an incubator concept for those who want to get into the industry and one day own their own brand."
Photo Credit: NowMedia
Matt Kenyon and Max Brock back in the day
Not long after the ball got rolling, Brock, who Kenyon calls District Wine Village's "founder," would pass away. It was a tough time for all concerned, but Kenyon ultimately opted to keep the project moving forward.
He brought in another good friend, our tour guide Michael Daley, and soldiered on.
Photo Credit: NowMedia
Michael Daley, Matt Kenyon
"We've had a year of steady planning," said Kenyon, "and a year of construction, and here we are. But a lot of Max's vision and concepts went into this. We're really just carrying that on."
Max would likely be thrilled. According to Daley, the Village, on 10 acres of 99-year leased land, is weeks away from being sold right out. And that's just "phase one." There's apparently room for another eight or more buildings that'll be built "down the road."
Photo Credit: NowMedia
Michael Daley takes a break from touring us around
Daley then walked us to a worker doing final sanding on a cross-laminated timber. It was an absolutely gorgeous hunk of wood, and there were a bunch of them — some as long as 40 feet.
Soon enough they'll stand each of those timbers atop a series of concrete pillars arranged strategically in the amphitheatre. It'll be an impressive sight, and even more so when the array of LED lights that run from top to bottom inside each timber is switched on.
As we chatted, Dailey expanded on what we'd learned earlier from Kenyon.
He described the ideal Village vendor as someone who's been growing grapes "but doesn't necessarily know if they can make it in the wine market and doesn't want to spend millions on a winery."
Photo Credit: District Wine Village
Artist rendering of completed Village
But amongst the less experienced will be folks who know the wine game and decided the Village would be their best option.
"It's a real mix," said Daley. "It'll be awesome in that regard. Our top-tier wine is $160 a bottle. And we'll have everything from there on down. It's all about small artisan-style production."
Currently, vendors are signing three- to five-year leases, meaning there theoretically won't be any quick in and outs. Nevertheless, Daley does expect the lineup to change with time. And that's absolutely fine.
"Some will stay forever, some will use it as a stepping stone to building their own winery in year three or year four," he said. "We want that to happen to a certain degree because it'll create freshness year in and year out."
Photo Credit: NowMedia
Just add water
"And it's all produced here," added Daley, a veteran of Jackson-Triggs among others and an eight-year wine consultant. "The vendors have their own license, production area, and retail and tasting space. They'll share crushing equipment."
Walking the grounds, you come to understand the sense of community the Village will conjure up. Many of the vendor buildings are situated just a few meters from one another, making it easy to hop from one to another.
And each of the patios looks down over landscaping and waterfalls to a central point — the amphitheatre — were Daley said there'll be a continuing lineup of concerts and performances once COVID restrictions have eased.
There's no cookie-cutter feel either. Most every structure façade within the Village seems to have been designed with a distinct architectural plan.
There'll be a helipad too for those with the big bucks, and there's already four acres of grapes planted in the southeast corner. Beyond that, Daley expects some form of overnight accommodation in the near future.
Culinary options will include a vendor who, said Daley, "makes food-based products from grape skins" and a full-service restaurant serving stuff like artisan pizzas, charcuterie boards and locally-sourced salads.
During events, there'll be a quartet of chef stations scattered through the amphitheatre.
Due to debut this June, District Wine Village will remain open all year, seven days a week. Winter hours will be shorter, and summer hours, especially on those days with ticketed concerts and shows, will extend well into the evening.